While there isn't much to do in the game to change the odds in your favor because the rules and procedures are predetermined, there are betting strategies implemented in the game. A money management strategy will help you maintain and grow your bankroll. We want to explain here what betting systems are and how to use them.
Baccarat money management: separate bankroll from capital
Before we detail the best money management strategies in Baccarat, you should first separate your bankroll from your remaining money. This means everything you need to rent, for food, daily expenses, not used for games. Don't be a fool, and don't start using that money to fund your game. For better or worse, you will end up in poverty, expose your family to unnecessary stress and difficult times, and, of course, stop enjoying the game.
You must be able to play. If you manage to rip off a small amount of money every month and drop it into a suitable bank account or piggy bank, then you can use that money to play Baccarat. There is only one rule: you can only use the money invested in this particular account. Do not, under any circumstances, touch your money or your family's money. Don't be such a bad person.
Money Management in Baccarat: Paroli Betting System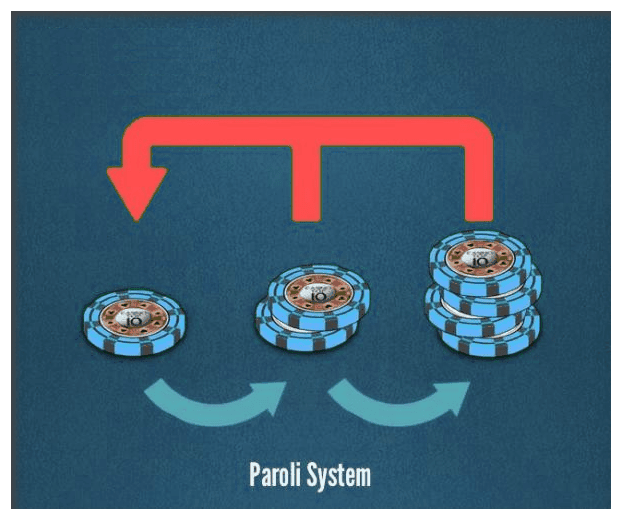 Paroli is a progressive betting system in which you double your ante if you win, and if you lose, you return to your original bet, and the system restarts.
The principle behind this is not to play big when you're already losing to minimize your total losses (because you revert to lower bets when you're losing). It would help if you only placed bets on the banker or player using this system, not on a draw.
Here's an example: you bet one unit on your first hand and win, then you bet two units on your second hand and win, then you bet four units on your third hand and lose – so you only play the next one bet again, which was your first.
Keep in mind that if you're in luck, you may need a restriction, so set it up before you start playing to resist the temptation.
Once you reach the limit, you will leave the table. If you would like to learn more about the Paroli betting strategy and how it can be optimally applied in the game, read more about it on our Paroli betting strategy page.
Baccarat Money Management: Martingale Betting System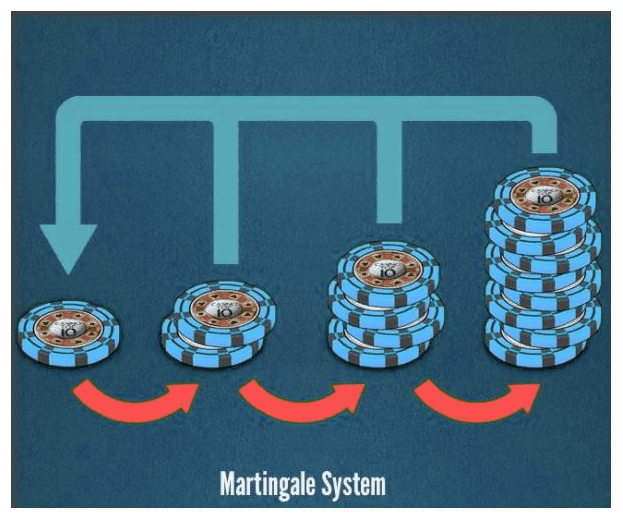 The Martingale Baccarat strategy works in the opposite direction from Paroli.
Instead of doubling your bets on a win, you double your bet on each loss and then return your original bet as soon as you win.
This is where you have to be smart because you can hit the table limit with this system and lose all your money before you even wager any of your money.
It's best to calculate in advance how many hands you can play within the table limit.
Determine if you want to lose this amount of money at the baccarat table.
Fortunately, much higher minimum and maximum bets are possible in Baccarat.
Due to the game's perceived exclusivity, the Martingale strategy is more applicable here than in other games.
You need to be very careful with Martingale – you can lose a lot of money if you lose.
Baccarat Money Management: Betting System 1-3-2-6 for Baccarat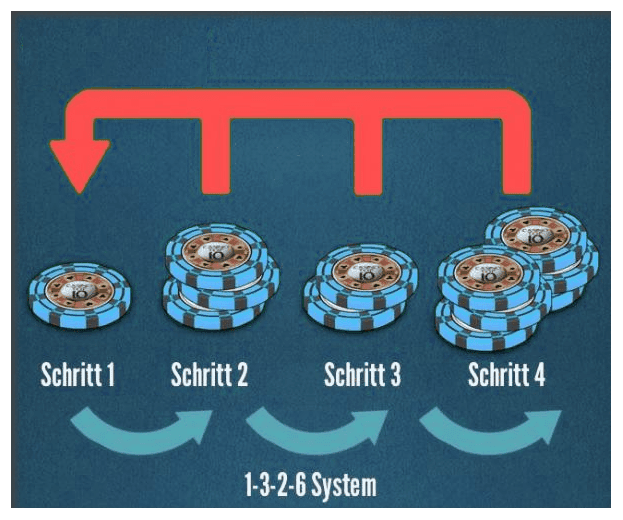 This strategy works by playing with one unit on the first hand, three units on the second hand, then two units in the third and six units in the fourth hand.
This strategy's whole point is to collect money in small winning streaks, rather than collecting money immediately after losses. The theory goes that there can be streaks of bad luck and luck from time to time, usually in the range of two or three bets together, and if you win with these higher bets, you can even make up for the loss with a profit. You may not make a lot of money with this method, but you will do it all the time.
For example: let's say a unit costs $10. So you're betting $10 on the first hand, $30 on the second hand, $20 on the third, and $60 on the fourth and last hand. You decide how big your bets and units are, but remember the strategy's goal – you have to win a total of 12 units. If you lose the deal, you will be taken back to the beginning of the sequence. This system keeps your bets at an acceptable level as higher minimum bets make it easier to lose control of your hands.
It is best to always bet on the player, as the banker mainly plays on commissions – this reduces the total income. But if you want to reduce your risk, you can also try the 1-3-2-4 betting strategy, which replaces a six-unit bet with a 2-unit bet.
Baccarat Money Management: Parlay Betting System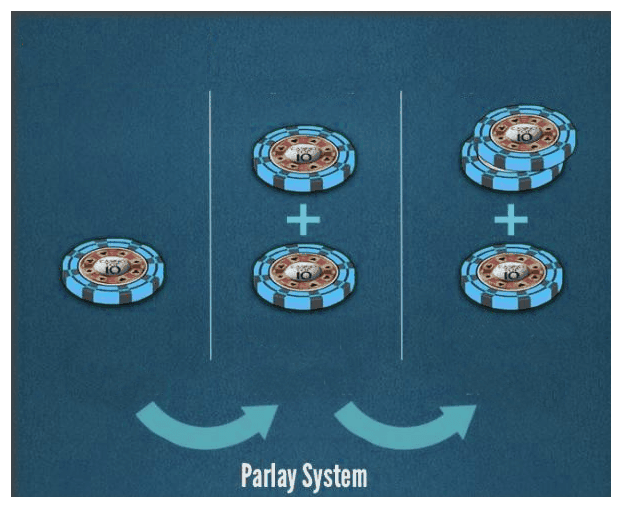 The Parlay betting system is very simple and comparable to the Paroli strategy. It aims to increase your bets as you progress through the game.
The purpose of the system is to add profit to the next bet when the bet is won; once you have won the second hand, you act in the same way with a win (winning the second hand in addition to your original bet).
You double your stake every time you win since Baccarat pays the same. If you lose, you go back to your initial bet.
If you place $20 as your original Baccarat bet and win your first hand, you have $40 to place in your second hand ($20 of your original bet, $20 in profit). If you win this hand, you play the next $80 ($40 of your original bet, $40 in profit). If you lose in the next round, you will be returned to the first bet in the fifth round.
As you can imagine, it is straightforward to lose a lot of money if you are not careful.
The best way to use this strategy correctly is to exit the baccarat table when you have a good streak and, of course, set your maximum bet limit in advance.
Use your money management skills at Baccarat to play online.
Now that you've set aside your money and saved up enough to play Baccarat and asked for advice on the various strategies you can use to manage your money carefully and maximize your winnings, you can start playing online right away.
You can use Paroli, Martingale, Parlay, 1-3-2-6 / 4 strategy, or any other betting system to play Baccarat online at the best online casinos. Just pick one from our list of the best online baccarat casinos to get started! We also have a complete guide to the baccarat strategy.